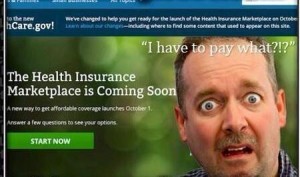 The fact that President Obama is a confident, skillful liar is not a surprise to any objective observer.  His personal history is fiction in many key respects.  He lied about his membership in the socialist New Party in Chicago, he lied about the extent of his relationship with Bill Ayers.  He lied about an open and transparent administration.  He lied about letting the public review legislation for 5 days before any vote was taken.  He lied about cutting the deficit.  He lies about being a non-partisan President who is always open to consider proposals from his opposition.  When he is caught in lies about the growing list of administration scandals, he lies more.
When he lies, he usually assumes his pose of moral superiority.  He begins many lies with the phrase "Let me be clear".  You can see video samples of 21 lies here:
Obama's lies about the Unaffordable Health Care Act were so blatant and were repeated so many times that even the mainstream media is noticing and publicizing the bait-and-switch pitch.  The lackeys at NBC are reporting that  Obama knew his sales pitch was a lie.  Obama repeatedly said things like:
"You can keep your doctor and keep your plan.  The only thing we are going to do is lower costs."
"No matter how we reform health care, we will keep this promise to the American people: If you like your doctor, you will be able to keep your doctor. Period. If you like your health care plan, you will be able to keep your health care plan. Period. No one will take it away. No matter what."
"No matter what you've heard, if you like your doctor or your health care plan, you can keep it."
"This will not increase the deficit by one dime."
Some key employees, like Kathleen Sebelius, are also comfortable lying.  In this recent whopper, she repeated the Obama phrase, "regardless of what you've heard", which is meant to denigrate the people telling the truth.
SEBELIUS: "In every state in the country, regardless of what you hear. In every state in the country, there will be a new health marketplace open for business on October 1. There will be online availability that now is up and running.
After the rollout disaster, Sebelius explained the cause of the 700 million dollar website failure:  The problem was that,  "the majority party at least in the House was determined to stop this any way they possibly could".           This is truly sick and pathetic.
Obamacare was designed to fail.  The insurance company and union fools who supported the plan will suffer greatly under it.  Many millions will lose insurance coverage that they liked.  Younger people who were supposed to sign up for much more expensive coverage won't do so.  Revenue will be much less than expected and costs will be much higher than expected.  The plan, as written, will fail.
Then we will be told that the only solution is government control of all health care.
In 2003, Obama said, "I happen to be a proponent of a single-payer healthcare system for America, but as all of you know, we may not get there immediately."  In 2007, he said,  "But I don't think we will be able to eliminate employer-based coverage immediately. There is potentially going to be some transition time."
Illinois Representative, Jan Schakowsky, explained to a group of supporters that private insurance would be destroyed by Obamacare.   She said that the public option would, "put the private insurance companies out of business and lead to single-payer."  Her audience cheered.
In 2008, Yale Professor Jacob S. Hacker openly explained the deceitful strategy.  He said, "Someone once said to me this is a Trojan Horse for single payer. It's not a Trojan Horse, right? It's right there! I am telling you. We are going to get there. Over time. Slowly. But we are going to move away from reliance on employer-based health insurance, as we should, but we will do it in a way that we are not going to frighten people into thinking they are going to lose their private insurance."
Harry Reid has already explained that the country has to "work our way past" insurance-based health care.  On a Las Vegas PBS' program, Reid explained, "What we've done with Obamacare is have a step in the right direction, but we're far from having something that's going to work forever."
When then asked  whether he meant ultimately the country would have to have a health care system that abandoned insurance as the means of accessing it, Reid said: "Yes, yes. Absolutely, yes."  
This law was passed without anyone even knowing what was in it.  It was a step toward government control, and that is all that mattered to them.  It was passed against the will of the American people.  Mr. Reid "deemed" it to be law without even a vote on the actual bill.  They argued forcefully that it wasn't a tax and then they argued in court that it was. The entire Obamacare endeavor has been a deceitful scam played on the public for the purpose of extending government power. It will severely damage the greatest health care system on earth, but, to them, that doesn't really matter.
******************************************************
Hitler finds out about Obamacare Exchange problems -